Boston UX Nominated for Global UX Design Award for Project RED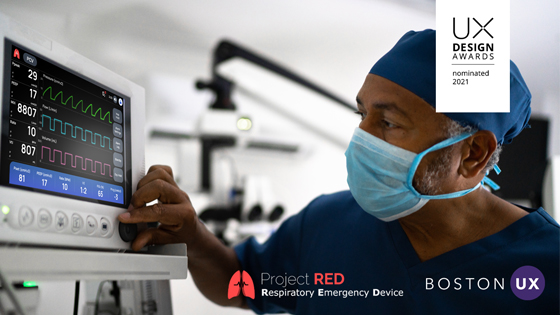 The competition for "excellent experiences" recognizes companies worldwide that make a positive impact with human-centric solutions, concepts and research. Boston UX was nominated in the Concept category for our work on Project RED, a non-profit initiative to develop an affordable emergency ventilator effective at treating respiratory conditions associated with COVID-19.
Even though there are vaccines effective against COVID-19, the majority of the world's population has yet to receive injections. As a result, there remains high demand for affordable ventilators in nations with developing economies. Project RED's device, which can be assembled from inexpensive, easily-sourced parts, is intended for use by hospitals in India, South America, Africa and other regions that may be unable to afford existing commercial ventilators, which typically cost between $15,000 and $50,000. 
The UX Design Awards honor the huge impact of accomplished experience design on shaping a positive living environment for all. Voting for the Public Choice Award will start on July 19 and continue until August 31st. The final winners will be announced on September 1.