Project RED
Fighting COVID-19
Boston UX has been nominated for a prestigious global design award for our work on Project RED, a low-cost ventilator used to treat COVID-19 patients in countries with developing economies.
Non-profit initiative Project RED asked Boston UX for assistance fulfilling its mission: develop an affordable emergency ventilator effective at treating respiratory conditions associated with COVID-19 and other illnesses. 
Even though there are now vaccines effective against COVID-19, it will take significant time for the majority of the world's population to receive injections, especially in developing nations. That delay, and the potential for future pandemics, drives demand for affordable ventilators that can be assembled from easily-sourced parts. Project RED's device is intended for use by hospitals in India, South America, Africa, and other regions that may be unable to afford existing commercial ventilators, which typically cost between $15,000 and $50,000.
Challenge
Project RED needed a fully working prototype on an accelerated schedule. It had to be meticulously designed to improve patient safety by avoiding user confusion, decreasing the possibility of use-error, and limiting complexity for validation, verification and documentation.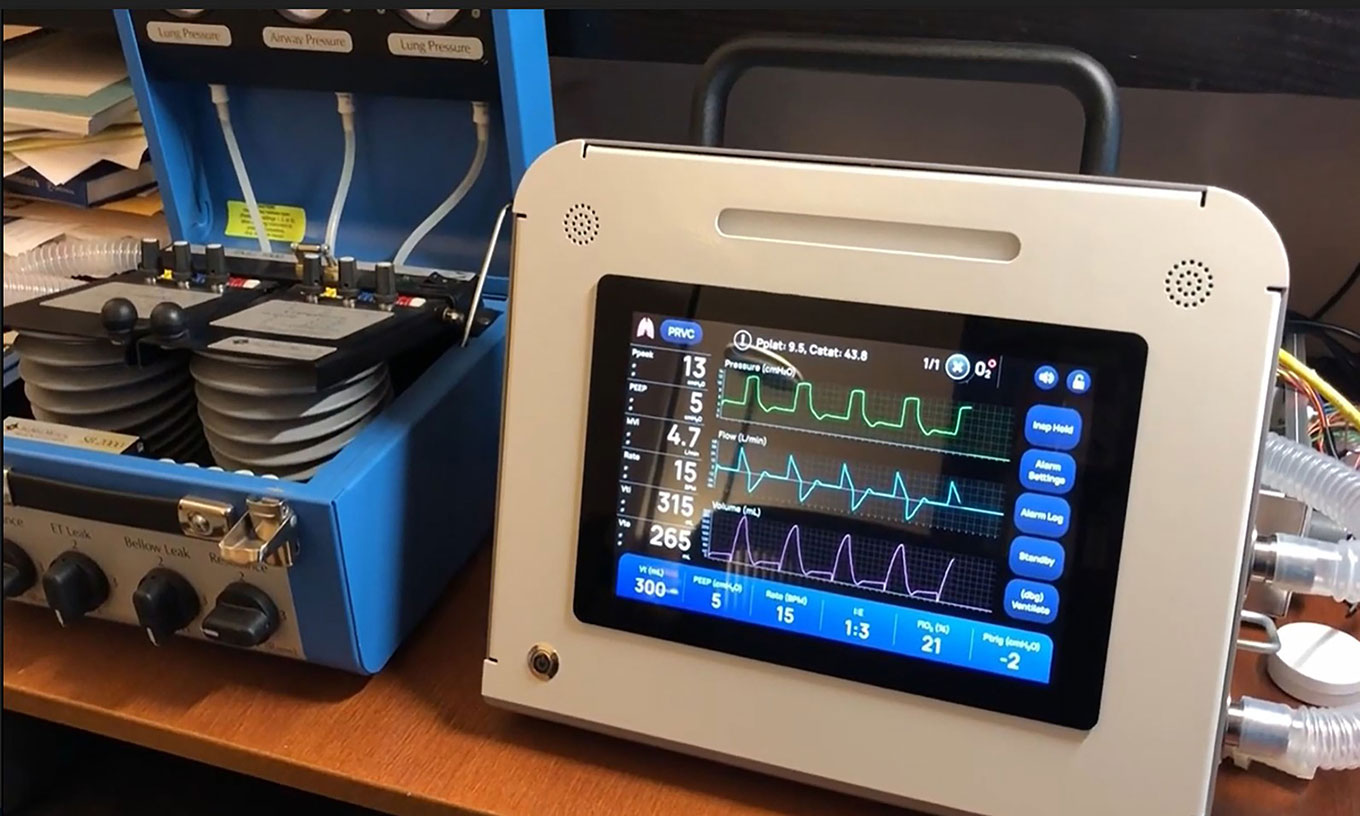 Solution
To achieve this goal, we followed our proven iterative design process, which is built on thoroughly understanding the users' needs. We began by interviewing key stakeholders to quickly get up to speed on the product requirements. We then conducted careful user research with medical experts with cultural ties to the countries where the device will be used to learn about the needs of the hospitals, clinical staff and patients who would interact with the device.
With this insight, we developed the information architecture, and designed UI workflows and screens. Along the way, we faced a variety of design challenges. For example, our design incorporated horizontal sliders on the device's touchscreen. These sliders are used by the physician to operate the ventilator. 

We spec'd horizontal sliders because they're proven to reduce selection error on the landscape-oriented screens typical of ventilators. But our user testing revealed that physicians are not accustomed to or comfortable with this style. So we adjusted our design to accommodate more traditional sliders. But since they don't perform as well, we used color, font and target area rather than slider orientation to reduce the chance of selection error.
We also enhanced safety in other ways. For instance, we documented and streamlined the workflows, created fail safes for hazardous or destructive actions, and designed simple, color-coded iconography for alerts and alert severity. As a further safety measure, we also incorporated a physical power-down button that can be used to shut down the machine as long as no ventilation is in progress. 
Result
In the end, we created a highly usable interface well suited to Project RED's intended market. Though we faced many design challenges, our project succeeded because the Boston UX design team excels at finding creative solutions to difficult challenges.
"Project RED worked with Boston UX on a very challenging project developing a high-performing but affordable ventilator to help in the global fight against COVID-19. On an accelerated timeline, their responsive team quickly created a pixel-perfect UX/UI that maximized usability while limiting complexity, which was essential for validation, verification and documentation."