GL Studio Adopted by Boston UX for Collaboration at CES
GL Studio Adopted by Boston UX for Technology Collaboration at CES 2019
Combination of DiSTI's technology and Boston UX's design expertise provides new solution for customers developing sophisticated embedded devices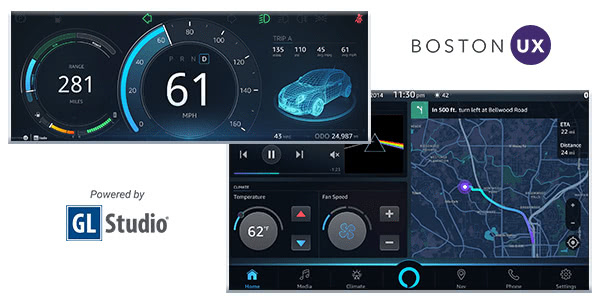 Las Vegas, NV (January 2, 2019) – The DiSTI Corporation, a leading provider of graphical user interface software to the automotive, aerospace and medical industries, and Boston UX, creators of sophisticated embedded, voice- and touch-enabled devices, today announced their collaboration. Boston UX has adopted DiSTI's GL Studio® UI software for their In-Vehicle Infotainment (IVI) and Instrument Cluster (IC) technology demonstrator running on the Renesas R-Car M3 Starter Kit. This demonstrator will be highlighted at the GL Studio UI Experience VIP Suite and the GENIVI Showcase during the 2019 CES show in Las Vegas.
DiSTI's GL Studio is a comprehensive UI development tool for seamlessly creating cross platform 2D and 3D user interface content. GL Studio streamlines UI asset creation through implementation readiness in one platform without compromising the original designer's vision. By consuming industry standard file formats such as Photoshop and 3D Studio Max, the graphic artist drives the user experience while the implementation engineers deploy the embedded system with the UX/UI workflow. Using GL Studio with Renesas R-Car MC Starter Kit greatly simplifies the task of setting up automotive Linux environments, reducing the time to market and cost of development.
"DiSTI is very honored to be working with such a well-known and respected UX company as Boston UX," said Christopher Giordano, VP of UX/UI Technology at DiSTI. "With their expertise in UX and our expertise in UI software implementation using our GL Studio tools, it's the perfect match to make our mutual customers highly successful."
Boston UX developed the user experience for its IVI and IC using DiSTI's GL Studio to power the visual front end of the embedded application. Specializing in intuitive interface design for touch- and voice-powered smart devices, Boston UX creates high-impact embedded and connected medical, industrial and consumer devices that don't just work, but deliver a powerful user experience. Boston UX designers have extensive knowledge of the engineering and complexities that impact UX and UI development, which allows them to build superior products. Leveraging DiSTI's GL Studio platform enables them to enhance the UX/UI without compromising the vision of their designs or overall user interaction.
"Boston UX is pleased to be collaborating with DiSTI to bring our UX design expertise to customers using GL Studio tools to create unsurpassed high-fidelity 3D graphics," said Dan McGillivray, vice president of sales at Boston UX. "Our combined expertise will benefit our customers as both companies are in continuous pursuit of innovation and excellence in design."
See the demonstrator of the UX for IVI and IC using DiSTI's GL Studio live at the Luxor Tower Suites and the GENIVI Showcase during CES.
About DiSTI
DiSTI is the leading expert in the development of User Interface (UI) software for over 5,500 end users and 700 customers from around the world including Boeing, Garmin, Hyundai MOBIS, Jaguar Land Rover, NASA, and Nissan. Our flagship product, GL Studio, enables programmers and developers to build high fidelity, 2D and 3D graphics that enhance the level of reliability, interactivity, and sophistication needed for embedded automotive applications – all while providing superior performance and visual quality. DiSTI software and solutions are used to build both safety critical and non-safety critical embedded UI. As a full service provider, DiSTI offers a complement of custom programming, architecture, and development services in embedded target solutions. For more information, visit www.disti.com, or contact the Media Relations team at +1-407-206-3390.
About Boston UX
Boston UX is a user experience (UX) design consultancy that specializes in creating intuitive interface designs for touchscreen and voice-powered smart devices and products. As a division of Integrated Computer Solutions (ICS), a product-driven software company, Boston UX's designers have deep knowledge of the engineering and business complexities that impact product development. Co-located in Waltham, Mass., Boston UX and ICS work largely with the transportation, medical and industrial controls industries. For more information, visit www.bostonux.com.