SMART TECH FOR CONSUMER
& COMMERCIAL PRODUCTS
Imagine the Possibilities
At Boston UX, we bring products to life through a collaborative, iterative process of creative problem-solving. Whether you're looking for a streamlined touch interface or an immersive, sensory experience incorporating voice, gesture, 3D, motion or haptics, we've got you covered. Our energetic team of idea explorers — talented UX and visual designers — carefully study consumer trends and user behavior patterns so we understand exactly what your customers aspire to when reaching for your product. And then we ideate, prototype and user-test concepts expertly designed to support your product strategy and differentiate your brand.
Design for Your Full Ecosystem
The world has gone mobile, and in light of the pandemic, increasingly touchless. For that reason, there's a growing market for engaging web and mobile applications that work in conjunction with an embedded device to deliver a seamless experience across all channels, from tablets to smartphones to wearables. Boston UX not only creates convenient companion apps delivering remote access to primary devices, but brings added value by designing apps as part of an integrated ecosystem of devices and hardware. To do so, we look at your product strategically to understand how it fits within your roadmap across various operating systems and devices. And we balance empathy with creativity to design powerful, unified experiences across contexts. This powerful insight informs our UX/UI design for The North Face, Ingram Micro and other brands committed to innovation.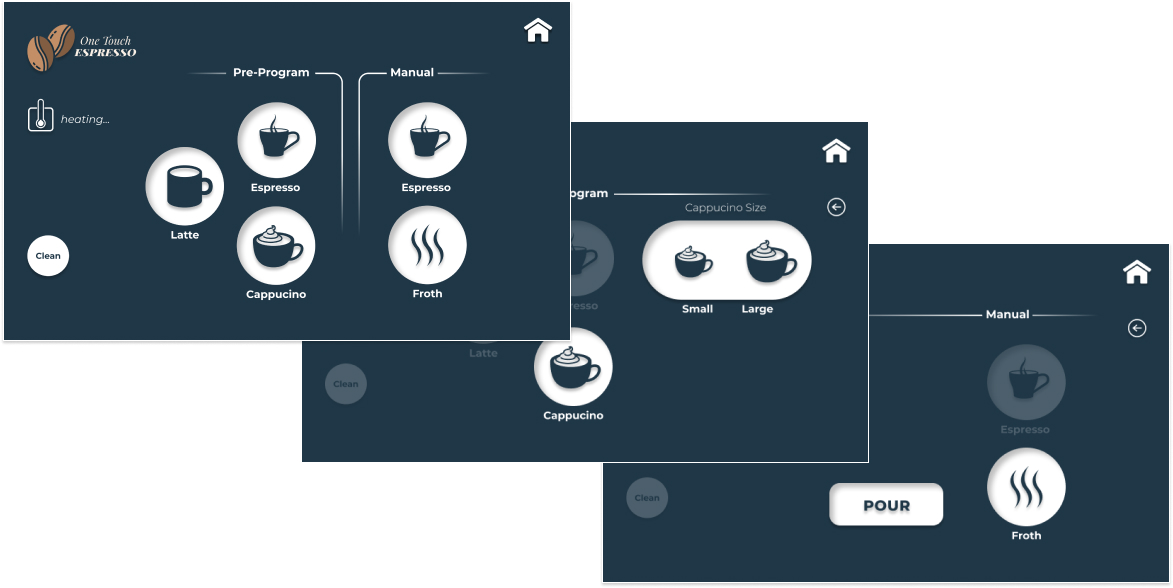 Revolutionizing Home and Commercial Kitchens — Thanks to the IoT, kitchens are undergoing a technology makeover. Everywhere you look, from fast-food restaurants to fine dining establishments to our own homes, connected touchscreen-driven appliances are quickly replacing the antiquated models we grew up with. This renaissance has led to coffee brewers that can communicate with the caffeine-deprived in multiple languages with the touch of a button; smart toasters that offer dozens of custom, on-screen settings to deliver the perfect crispness for breads, English muffins and bagels; even refrigerators that manage your shopping list and reorder groceries. By understanding the needs of home and commercial cooks, Boston UX designs elegant, easy-to-use interfaces for the latest feature-packed and capable products, including commercial deep fryers, smart refrigerators, precision hot-beverage brewers, and the small appliances that make cooking a pleasure.
Ready to create something exceptional?
Prefer a different method?

781.552.3730
230 Second Avenue Waltham, MA 02451
"We could not be more pleased with the work ICS has performed. The project was virtually effortless on our part. The apps truly extend The North Face experience to an important new platform. We say 'Never stop exploring,' and these apps fit that mission perfectly."