UX Writing Skills Now Vital for Designers
Employers expect UX designers to bring with them coding, business and leadership skills in addition to the latest design skills. Now, designers are being asked to further broaden their core competencies to include UX writing.
If you want to create winning IoT devices and apps, from wearable health trackers to customer service chatbots, designing a great user experience (UX) is essential. Traditionally, that's involved conducting user research, creating wireframes, creating visuals and completing other "design" tasks. But there's an aspect of that great user experience that's often overlooked — or at least underappreciated — even though it plays a huge role in the success of the product.
What am I referring to? The writing. All those snippets of copy that lead a person through the experience of using a device. Yes, UX is still predominantly a design concept. But UX writing — short-form copywriting that's solely focused on enhancing a user's interaction with a device, making it pleasant, effortless and frictionless — also plays a leading role.
UX Writing is a Unicorn Skill
Though words can be as potent as visuals, many designers are reluctant to develop their writing chops. Yet current digital design trends that prioritize clean lines and limited words — an aesthetic championed in the UX design community — mean that those words hold great value.
In his influential Design in Tech report, John Maeda, Global Head of Computational Design and Inclusion at Automattic, calls UX writing a "unicorn skill" — one possessed by the rare designer yet a skill that more and more companies seek. (A quick scan through Indeed.com as I write this blog reveals more than 600 UX writing jobs at companies from Apple to Uber.) "A lot of times designers don't know that words are important," Maeda said. He suggests "an over-reliance on the interface" has led to neglect of writing as a design skill.
But are designers really expected to possess the necessary caliber of writing skills — the ability to craft clear, concise, useful, non-salesy copy — needed to enhance the user experience?
The answer, according to Jeff LeBlanc, Director of UX Design at ICS and Boston UX, is yes. And no. "Many firms now expect their designers to have at least basic UX writing proficiency," he said. "Change in the design profession is accelerating as more companies embrace UX as a way to differentiate their products and outperform their competition. In turn, designers need to expand their repertoires in order to be as valuable as possible to the team. One way UX writing-proficient designers can help is by translating engineering-speak, for instance writing error messages that are user-centric, calming and helpful to the user."
The Role of Specialists
But designers are only expected to go so far as writers. As anyone who has ever put pen to paper (or fingers to keyboard) knows, it is far more difficult to write short than long. That chestnut often attributed to Mark Twain is telling: "If I had more time, I would have written a shorter letter." For that reason, many companies are hiring UX writing experts — professional writers specializing in UX, rather than designers trying to wear multiple hats — and embedding them in their UX/UI design teams.
"We expect our designers to be able to handle much of the basic writing needed to support our designs, like crafting error messages and button labels," LeBlanc said. "But there are projects that are more writing-intensive and for those we incorporate dedicated writing resources."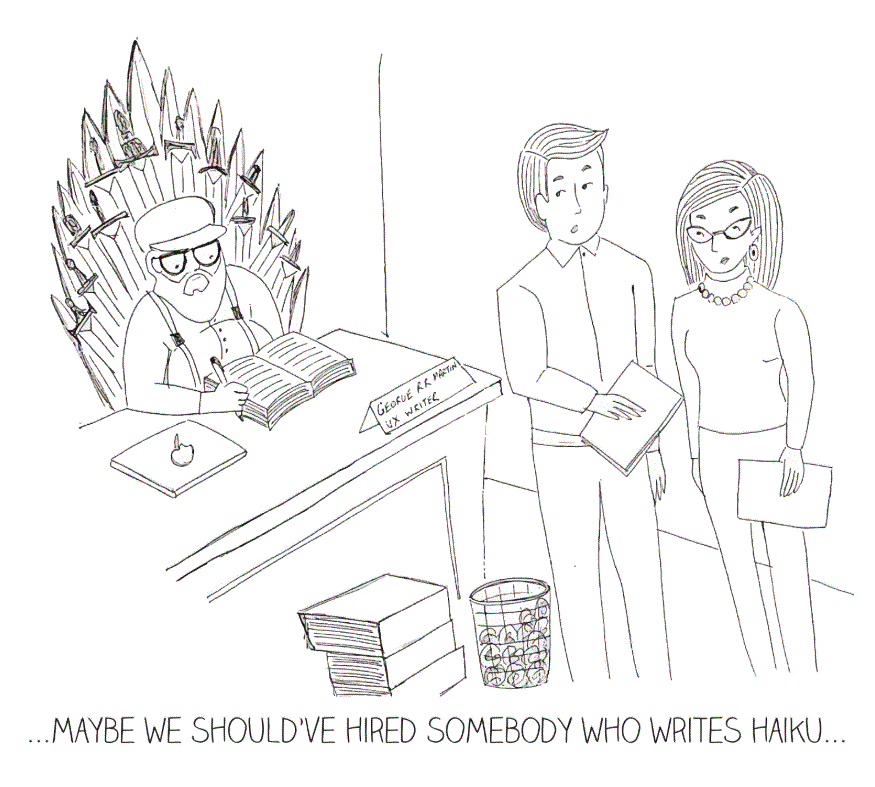 Powerful-but-minimalist copy is fundamental to a great user experience. It's what gives life to a product and ensures that the process of interacting with a digital product is not confusing or frustrating. While visuals still drive that experience, the words also need to be on point, not an afterthought. These days, having a UX writer — whether a professional writer specializing in online platforms or a designer with adjacent skills — is a must-have. Does your team have one?
Like this article? Here's more great UX design content.