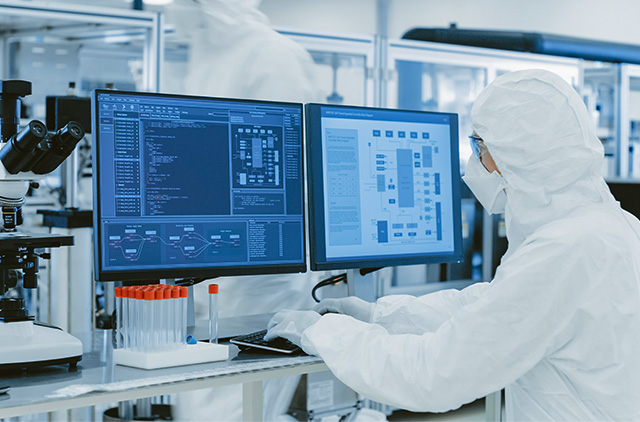 It's Time to Fix Scientific Software
In the era of COVID-19, accelerating scientific R&D takes on new urgency. For today's research scientists, accessing and making sense of the information needed to support their discoveries is a challenge. Why? Scientists conduct less hands-on wet and dry lab work than in the past and instead increasingly rely on software applications to conduct research.
While this means they have expansive information at their fingertips — everything from lab notebook entries to patent information — this data often resides in software applications that can be difficult and frustrating to use. 
We've seen a number of confusing scientific user interfaces that deliver clumsy user experiences. Certainly there are exceptions, but software featuring less-than-optimal UX design makes it difficult for researchers to do their best work.
Before the dawn of the iPhone in 2007, it might have been ok for scientific software applications to be cumbersome as long as they allowed a user to ultimately accomplish necessary tasks. But not these days. Thanks to Apple, everyone now is accustomed to beautiful, intuitive interfaces on the devices and apps we interact with in our personal lives — and expect the same from those we use in our professional lives.
Clean, well-designed interfaces make it much faster, easier and enjoyable to access information. In a business environment, that can translate into accelerated product development and result in a higher quality product.  
For several years now, industries from real estate to retail have done a great job using thoughtful UX design as a differentiator to help their businesses stand out. So why does scientific software, in general, lag behind other industries in embracing UX design? A lot comes down to awareness of the positive role UX design can play in life science R&D. 
In many life sciences organizations, decision-makers are just starting to understand and appreciate the value of UX design. But, this appreciation isn't yet pervasive so companies are typically challenged to find adequate financial support for UX initiatives. Among decision makers who concede its value, many look at life sciences R&D as a cost center so are unwilling to invest. 
And companies that are willing to spend on UX are largely investing only in customer-facing applications, not the internal scientific software applications fundamental to their business. Even then, UX is typically relegated to a task to be handled at the end of the software development lifecycle, rather than integrated into the development process up front.
UX Empowers Life Science R&D
If we're to expect excellence from our scientists — and in the midst of a pandemic, certainly we need scientific contributors at their best and most efficient — we have to give them the right tools to solve problems quickly. That means greater investment in UX.
More and more, life sciences organizations are investigating innovative ways to help their scientists deal with expansive sets of highly complex data that changes quickly and often. They're starting to appreciate that the interfaces for everything from Electronic Lab Notebooks to Laboratory Information Management Systems should visualize information in a way that lets users quickly explore and easily interpret critical data.
There are some companies that have long been believers in the value of good UX. MilliporeSigma, with whom we've worked closely for a number of years, is one example. They understand that user-friendly design that facilitates workflow and allows scientists to more easily manage complex data leads to faster discoveries and higher quality research.
Their Synthia™ software, a computer-aided retrosynthetic design tool that accelerates drug discovery by shrinking the time needed to find and execute viable synthetic routes to known, novel molecules, is powerful, highly usable and delivers an outstanding user experience. The application features an intuitive UI with carefully designed screens and an information architecture built with user needs at the forefront, which makes the software comfortable to work with.
Moving Toward a Wider Embrace of UX
The demand for more-efficient data management is growing at the same time the global life science community is being called upon to bring products to market more quickly (while maintaining compliance). Human-centric UX design, implemented early in the software development process, can help empower users, streamline data management, simplify research tasks and help teams collaborate more easily. 
To help move the life sciences industry toward a wider embrace of UX design, the Pistoia Alliance, a community of practitioners from the pharmaceutical, healthcare and software industries, launched a project to communicate the value of UX at all levels within life sciences organizations. They aim to show the vital role UX can play — should play — in life sciences. 
According to the Alliance, the full potential of UX has yet to be realized in the life sciences. We wholeheartedly agree. It's time to change that and make it easier for those working in the industry to bring new therapies to market faster. The change will come when the majority of life sciences organizations buy into the notion that the design of software applications aimed at their internal R&D scientists is business critical.