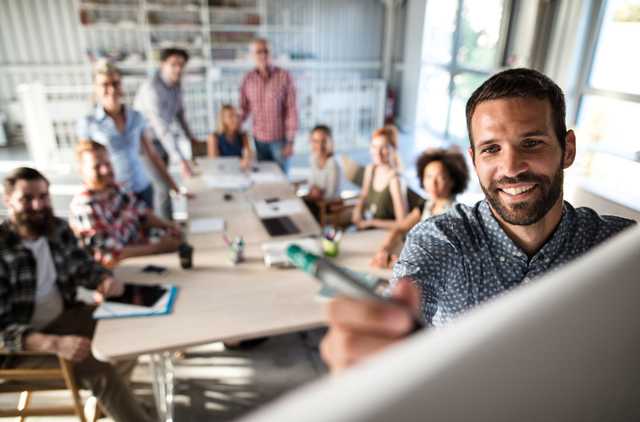 Do You Need a UX Strategy?
A user experience (UX) strategy insures that you'll spend your design budget wisely. In the absence of a UX strategy you may find that your UX dollars are wasted.
Here's the backstory. UX design is increasingly recognized as the essential part of any software project that users will interact with. Still, many companies are sensitive to the cost of UX design. That's understandable. It can feel like an added expense, particularly to those coming from an engineering practice where prioritizing users above adding functionality is not the norm.
But investing in UX design makes sense. Businesses that do so enjoy increased ROI and enhanced productivity, and reduced product development risk. And their users benefit from a more enjoyable, frictionless experience.
Companies that prioritize UX outperform their peers by 43%, according to Forrester Research's Customer Experience Index Ranking.
Companies that prioritize UX outperform their peers by 43%, according to Forrester Research's Customer Experience Index Ranking. In the long run, UX design can pay for itself many times over — even in situations when the short-term view is that UX is too much of an expense for a specific project to bear. Of course, this payoff doesn't happen magically. If you're willing to invest in UX design you'll get the most value from your investment by applying a cohesive, well-planned UX strategy.
A UX Strategy Drives Decision Making
UX strategy is a way to find out if the user experience of a product is aligned with the business objectives (Levy, 2015). It's a plan for the success of your UX design, one that ultimately leads to product success. It's a way to ensure you don't waste valuable resources on non-essential or low-priority aspects of a project. It's a guidebook to get you from zero to delivery with a complete, highly usable product completed within an agreed-upon budget and schedule. It's a proven way to minimize product development risk.
Having a UX strategy means that you:
Understand the stated business goals of the product or service (hence called "product")
Understand the problem the product will solve
Develop metrics for success of the product
Understand constraints of product design and development, such as budget, schedule, and stakeholder and user involvement
Clarify who is the user
Set clear, concise goals for the product's UX
Prioritize the product's desired features, components and design elements taking into consideration development time
Choose a path and process for completion that is most effective and efficient, considering all desires, requirements and constraints
Having a UX strategy doesn't mean you are locked into a rigid box. You can change any criteria you want at any time. Rather, a ;UX strategy is 100% about creating clarity and transparency on a project so that the team can make and agree upon realistic choices.
How to Develop a UX Strategy
A UX strategy should be established before design or development of a digital product begins. A well-envisioned strategy starts with research and ends with a written, sometimes illustrated, document. Here are the key steps involved:
Examine Business Goals and Requirements
Meet with stakeholders and gather the business requirements and goals of the product. List the stakeholders' desires and requirements, including qualitative and quantitative aspects. Articulate the problem this product solves for users. Develop metrics so you can measure the product's success. Clarify the constraints on the product design and development, such as budget, schedule, involvement of stakeholders and users, and required hardware and software platforms. This sometimes can take multiple meetings if stakeholders are unclear or not in agreement with what they want.
Understand Users
Meet with or research users of the product to understand their needs and requirements. Validate that this product is desired in the marketplace or by the target users. Investigate what might draw users to the product or what will turn them away.
Assess Technical and Budget Concerns
Consider the hardware and software preferences and limitations and how they impact the design and the process of designing. Consider the budget and schedule limitations and weigh the business goals, design requirements and constraints to figure out the best path forward. Resolve conflicts by negotiation, such as a small budget with oversized design requirements or challenging technical requirements.
Articulate Your Design
Sketch out high-level design requirements in the form of a story, storyboard or journey map to ensure that all parties understand the high-level design requirements. Getting stakeholders to sign off on this high-level design document may make sense to ensure that they take it seriously. Articulate any particular issues that present risk for timely completion or budget overruns of either design or development and propose ways to mitigate that risk. Less is more in design. Strive for ways to simplify the design while maximizing the value of the product.
A cohesive, well-planned UX strategy is your blueprint for success and developing one is beneficial to any project that involves users. A small investment in creating a formal UX strategy, which benefits both your users and your business, delivers a huge payoff.
Liked this article? You can read more about UX design here.